The Mandela Washington Fellowship
The Presidential Precinct is one of 20 original institutions selected by the Department of State to host the prestigious Mandela Washington Fellowship for Young African Leaders over a five-year period beginning in 2014. The Fellowship is the flagship program of the Young African Leaders Initiative (YALI).
The Fellowship is highly competitive. For the 2018 application, over 60,000 young leaders applied for 700 Fellowship positions.
Each summer, the Presidential Precinct hosts a six-week Civic Leadership Institute oriented toward Fellows who are serving the public through non-governmental organizations, community based organizations, or volunteerism. Civic Leadership Institutes build technical and leadership capacity in areas such as citizenship, community building, economic development, grassroots activism, political organizing and leadership, and strategic problem solving.
The Precinct's class of 25 Fellows participates in academic sessions, cultural and social activities, networking, and community service and engagement at all six of the Precinct's partner sites.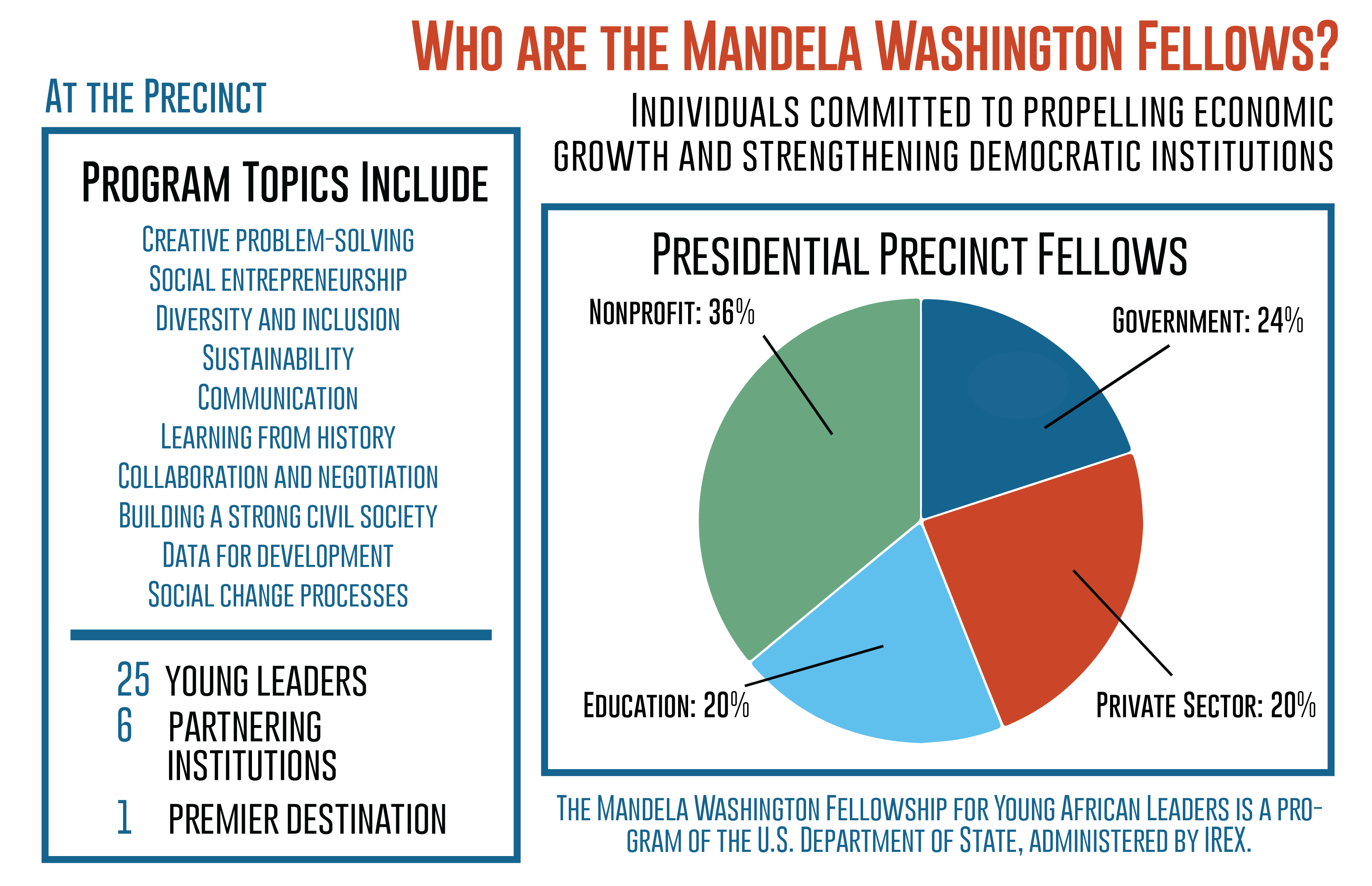 124 Precinct YALI Fellows. 41 Countries.
Join Us for #MWFLive
Friends of the Presidential Precinct are welcome to join us for #MWFLive panel discussions, spread across the Mandela Washington Fellows' Civic Leadership curriculum. Each featuring a different topic, these panels will provide an opportunity to hear, first-hand, challenges faced across sub-Saharan Africa and the stories of those who are working to overcome them.

Innovating for Development
Wednesday, June 27 | The University of Virginia | 12:30PM

Promoting Women's Rights and Opportunities
Monday, July 2 | Morven Farm | 9:45AM

Empowering Next Generation Leadership
Friday, July 6 | James Monroe's Highland | 9AM

Protecting the Rights of Marginalized People
Tuesday, July 10 | Thomas Jefferson's Monticello | 12:30PM

Advancing the Rule of Law
Monday, July 16 | James Madison's Montpelier | 12:30PM

The Africa Ideas Summit
Wednesday, July 25 | William & Mary | 9AM