"It begins with an idea and ends with a well-designed piece, with a lot of experimentation."
That's how Elaine Butcher describes her craft – handmade, globally inspired jewelry made from recycled metals. Although Elaine's work is showcased around the country, she has long been designing and constructing from her boutique studio in Charlottesville.
The Fellowship
This past fall, Elaine had the opportunity to partner with the Presidential Precinct as a Fellowship Host in the Young Leaders of the Americas Initiative, a U.S. Department of State sponsored program that empowers entrepreneurs and innovative civil society leaders through individualized Fellowships in city hubs around the United States. 10 YLAI Fellows came to Charlottesville to partner with local small businesses and nonprofits who shared in a common passion for entrepreneurship, leadership, and networking.
Mazal Blanco, one of the ten Charlottesville-based 2016 YLAI Fellows, partnered with Elaine. From Barranquilla, Colombia, Mazal is also a jewelry designer and founder of Mazal Blanco Eco Design S.A.S.
The Reverse Exchange
Now in 2017, Elaine has just returned from working with Mazal in Colombia. She was the grantee of a reverse exchange opportunity and traveled to Colombia for two weeks in late March.
Elaine and Mazal had a busy two weeks on their reverse exchange. Not only did they design and develop a brand new jewelry line using repurposed CDs, but they also spent a large amount of time teaching high-risk children and special needs students bracelet making techniques. The duo led an instructional talk at Sena, Colombia's largest public education program, and visited the Barranquilla Chamber of Commerce to encourage local entrepreneurs to apply for the 2017 YLAI Fellowship.
Applications for YLAI 2017 are open until April 24. Follow this link to apply now: https://app.wizehive.com/appform/login/ylaifellows2017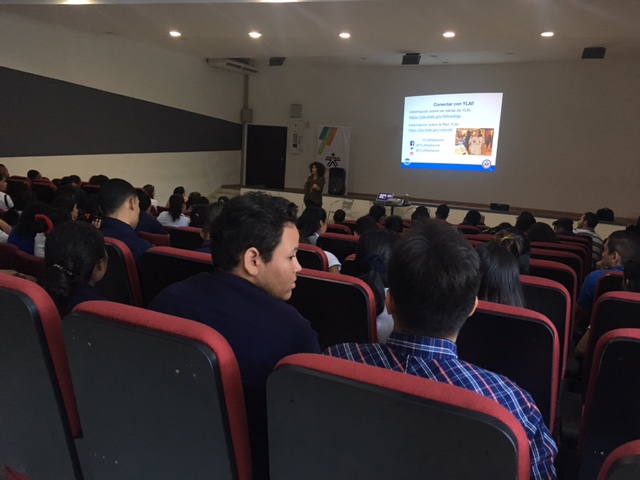 Returning to Charlottesville
Elaine has now returned to the States, and Mazal is soon to follow! Still powering on from their momentum in Barranquilla, the two are now planning a sale in downtown Charlottesville. They'll market their newly developed line, called Alba. All proceeds from the Charlottesville event will go to a school in Barranquilla that focuses on holistic education for children at high risk of gangs and violence. Read more on Alba and the event here: http://eepurl.com/cKPRNf
When: Thursday, April 13, 5:30-8:30pm
Where: Cardamom, Downtown Charlottesville
Who: Open to the public!
This partnership is a strong example of the relationships that continue out of exchange programs like YLAI. At the Precinct, we're honored to take part in facilitating these networks, and we look forward to seeing how Mazal and Elaine continue to impact their local and global communities.