Bukky Shonibare is a 2016 Presidential Precinct Mandela Washington Fellowship alumna. Learn about her experience here.
By Fu'ad Lawal | Pulse Nigeria | October 19, 2016
When the world lowered its placards due to fatigue or hopelessness, Bukky Shonibare raised hers and hasn't dropped it since.
One night in the middle of April 2014, 276 girls were kidnapped from their school in Chibok, a town in Borno State.
The perpetrators were Boko Haram, a terrorist group that has carried out everything from mass executions to bombings in Nigeria since their resurgence in 2011.
In the days that followed, a movement that started as a hashtag began with the sole aim of making sure the girls were rescued, the #BringBackOurGirls Campaign.
What began as a bunch of tweets quickly went viral globally, with people all over lending their voices. From Michelle Obama in the White House to Actors at the Cannes, to school children everywhere, and even in Nigeria, placards were raised.
A few weeks later, save for the BringBackOurGirls Movement who convened daily and still convene till this day, making their demands known to the government, every placard had dropped, either from hopelessness, or just fatigue.
One woman never dropped hers, and since she lifted her placard in solidarity on the 12th of November, 2014, she has never dropped it till this day, reminding us that somewhere in the North East, over 200 girls were being held against their will.
Her name is Bukky Shonibare.
Every morning, in the midst of all the daily banter on the Internet, she is somewhere, writing very boldly on a large piece of cardboard paper. She writes how many days the Chibok Girls have been gone for. She lifts it to her chest, and stands for a picture, no matter what place she is in the world at the time or her state of mind.
As the months and years have flown by, we've seen her in different forms, standing in front of different walls. We've seen the cardboards rumpled and be replaced by new ones.
But the one thing she does every day is to show up. We spoke to her about her struggle, the girls' struggle, and the Bring Back Our Girls Movement of which she belongs.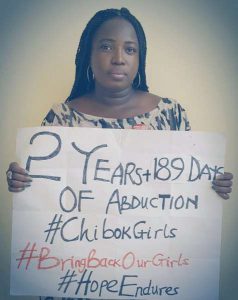 We spoke to her after the 21 Chibok girls were freed, asking what she thinks about how the government is handling the case.
For her, it's a little dicey.
First, she thinks the kids must be protected due to possible stigmatisation in the future, because let's face it, these kids are minors. She said: "We're all in a joyous mood, and I must admit that I have also shared some of the photos. I see some of these pictures and the joy on their faces. It still doesn't take away what should be the standard. These are people that should be protected from the public eye."
But it's not that simple. She went on:
"When you look at the whole narrative around the Chibok Girls, our peculiarity requires that we don't hide their faces. People are still doubting the truth of the whole Chibok Girls story, despite the fact that they're bringing them back."
Something worthy of mention is the process involved.
"We need to create a proper process of verification of identities of returnees. I'm careful about using the word returnees because I don't want to limit it to just the Chibok girls, knowing that there are other abductees too who also need to be accorded the same attention. Some have even stayed longer than the Chibok girls."
We asked her about the moment she decided to carry the placard.
The Bring Back Our Girls advocacy began on the 30th of April, but it was the October 17 ceasefire with some representatives of the terrorists that really did it for her. That day, they were at the Unity Fountain with international journalists in attendance, waiting to cover the ceasefire. Then they heard the deflating news; Shekau had just released a video saying he was never involved in any ceasefire process.
Sources say there have been deadly skirmishes between Boko Haram's factions led by Abubakar Shekau and IS-backed Abu Musab al-Barnawi respectively
This was the point where many people said, "this government is not worth it".
"I felt people had stopped talking about Bring Back Our Girls. So I carried the placard with the sole aim of making sure people never forget. I later found out Charles Alasholuyi was carrying a placard at the time."
The goal is to make sure that while we enjoy the comfort of our homes, we must remember that there are people being raped, being used as war shields, or strapped with bombs. All against their will.
She didn't plan to carry it for this long. According to her, she first carried it on the 12th of November, exactly 50 days till the end of the year. But she didn't. "It would have felt like a betrayal," she said.
But she also believes the Chibok Girls are an entry point to something bigger, like how they also helped keep the other abductees in our minds and appreciate the efforts of the soldiers.
Keeping up a routine is hard. We asked her how she's managed to pull it off for over 700 days.
"It's not just about the placard," she said;
"Every time I hold it, there are emotions coming with it. Every day I remember all over again, that I am free, that someone else is being held and I'm free. The sobriety comes every day. There were times I just felt like dropping it. Someone on Twitter said, "is it a placard that will bring back our girls?"
There are times it gets to me because you know, I'm human. There were times it felt senseless, but then I remembered why I started. I started because I wanted people to never forget, and it helped me keep going. Everywhere I am, I travel with my placard. I must tell you, it hasn't been easy."
When we asked her to tell us her most memorable moment, it was powerful.
She's in a hospital, and there's a syringe in her vein helping to fight the typhoid fever trying to bring her down. It's that type of day you don't want people seeing your face. So she manages to get on her feet, lifts her placard and hides her hands behind it. No one needs to know about her typhoid, but everyone needs to remember the girls still.
That day, someone on Twitter asks, "why can't you get a better phone to take good pictures?"
"A lot of the time, people see stuff and criticise," she said, "but they don't know the backstories".
One thing we observed is that, when she drops the placard every day, she fills her hands with many other things she seems to be juggling pretty well.
She believes the war against Boko Haram will eventually be won with books, pens and empowered minds, and she's at the frontlines of this war. There's also the Girl Child Africa. With this, she wants to help girls in marginalised societies all over Africa.
On what the future looks like, Bukky doesn't know everything it holds for her, but she's taking today to get ready.
It's why she got her first degree in Business Administration in 2015, started her Masters immediately in Peace and Security.
That's not all. She's currently on another degree in Law with a special passion for Humanitarian Law.
Even when hopefully, the last Chibok girl has returned home, or the Northeast becomes safe again, Bukky Shonibare is clearly in this for the long haul.